11 May 2020
Laserfiche Works with Organizations to Develop Long-Term Business Resiliency Solutions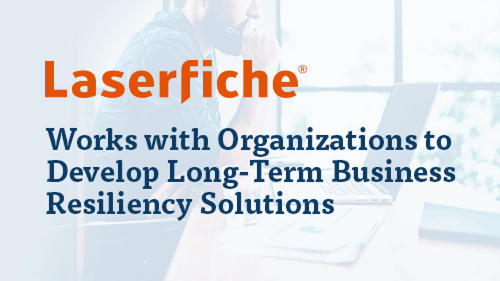 Due to the COVID-19 crisis, many organizations have adopted company- and government-mandated remote working policies in order to prevent the spread of the virus among staff and clients. However, many companies have been left unprepared and struggling to adapt to these new conditions.
Enterprise Content Management (ECM) solutions have been at the forefront of facilitating remote collaboration, communication and access to important files for organizations in a wide range of industries and backgrounds. In the context of a crisis such as COVID-19, ECM solutions are especially important in helping organizations achieve long-term business resiliency, ensuring that operations and key processes can be successfully performed beyond the current crisis – in and out of the office.
Business leaders from different social and economic business environments have leveraged technology to navigate through this crisis. Laserfiche is organizing live online forums for expert insights from members of our community, featuring veteran industry leaders who have developed solutions to make a real-life impact on their organization during the COVID-19 crisis:
Tuesday, May 19th | 08:00 AM GST
MSIG Insurance (Hong Kong) Limited initiated a Digital Transformation project two years ago, enabling staff to work from home while continuing to meet customer expectations during the crisis. Featuring Alan Yue, Senior Vice President of Information Technology at MSIG Insurance (Hong Kong) Limited, this webinar discussion will cover:
•Developing automated web and mobile platforms that enable business continuity during major disruptions
•Establishing scalable solutions for long-term operational continuity, regulatory compliance and streamlined resource management
•Lessons on ensuring organizational resiliency during a crisis in the context of Hong Kong's insurance and business environment
Thursday, May 21st | 07:00 PM GST

BBAC Bank implemented a Digital Transformation strategy, enabling business continuity during periods of uncertainty when staff and customers are unable to visit bank branches. Featuring Zahi Krayem, Lead Business Analyst at BBAC Bank in Lebanon, this webinar will cover:
•Automating key processes that customers and employees can initiate outside bank branches and offices
•Implementing solutions that enable employees to work from remote locations, such as mobile app platforms
•Lessons on ensuring organizational resiliency during a crisis in the context of Lebanon's banking and business environment
Proper planning and implementing effective solutions are the key to long-term business resiliency. Consider joining both of our virtual events to explore best practices that can be applied to organizations of all backgrounds. Being proactive and developing a long-term strategies are crucial parts of mitigating the impact of COVID-19 and other major disruptions, no matter the source.