03 Oct 2020
Sheikh Mohammed: Museum of the Future blends Arab authenticity with our global ambitions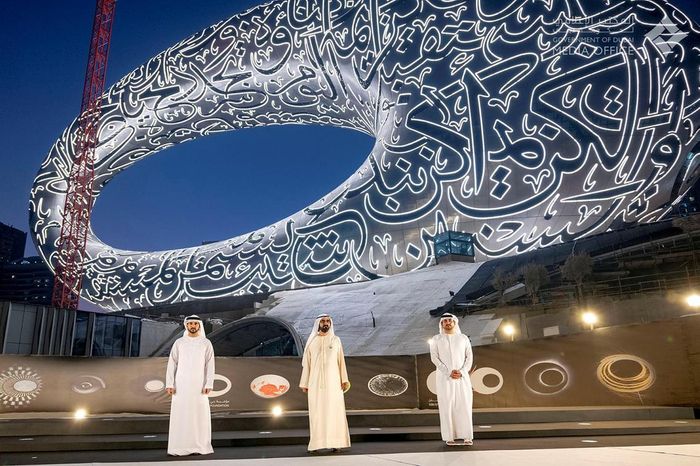 Sheikh Mohammed bin Rashid, Vice President and Ruler of Dubai, attended a ceremony to mark the start of the final phase of construction of the Museum of the Future.
He witnessed the installation of the final piece of the structure's facade.
"Covering an area of 30,000 square metres, the seven-storey column-less marvel stands at 77 metres high, with 1,024 Arabic Calligraphy panels on the facade manufactured by robots," Sheikh Mohammed tweeted on Saturday night.
The building "speaks Arabic", he said, and it combines "our Arab authenticity with our global ambitions".
The Dh500 million museum, which will be home to a research centre with labs and classrooms, as well as a sprawling space for museum-goers to experience new technologies, is one of Dubai's most keenly-anticipated attractions.
"Our goal is not to merely build engineering icons. Rather, it is to inspire mankind to build a better future," Sheikh Mohammed said.
"Dubai continues to build and the UAE continues on its path of achievements.
"Progress favours those who know what they want.
"With the addition of the Museum of the Future alongside Emirates Towers and the Dubai International Financial Centre, this area will be the most innovative and influential region in the future industry and driving sustainability and development."
With Sheikh Mohammed were Dubai Crown Prince Sheikh Hamdan bin Mohammed, who is chairman of the Board of Trustees of Dubai Future Foundation, Sheikh Maktoum bin Mohammed, Deputy Ruler of Dubai, and Mohammed Al Gergawi, Minister of Cabinet Affairs.
Mr Al Gergawi is also managing director of the Dubai Future Foundation.
The foundation was set up to help develop strategies to ensure Dubai plays a leading role on the regional and international stage for years to come in terms of new technologies and innovations.
Source: The National