10 Mar 2021
"You can actually feel like you're in the same place": Microsoft Mesh powers shared experiences in mixed reality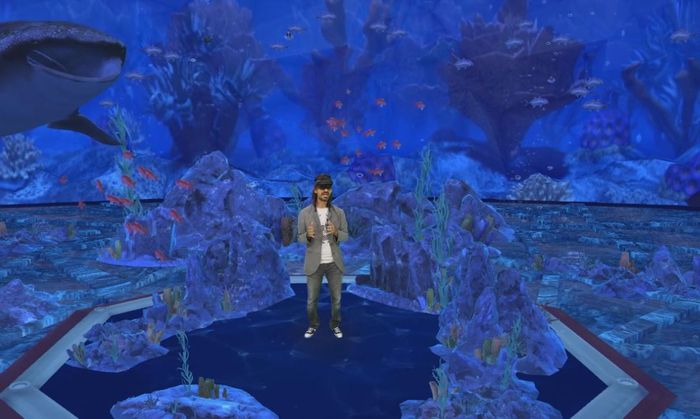 For years, Cirque du Soleil co-founder Guy Laliberté received countless proposals for virtual reality technologies, but they couldn't match the magic of his intensely visual and mesmerizing live performances. Now, with a new platform provided by Microsoft, he's rethinking that.
On Tuesday, he appeared at Microsoft's Ignite digital conference via holoportation, which uses 3D capture technology to beam a lifelike image of a person into a virtual scene. In the company's first keynote experience designed entirely for mixed reality, people attending the conference from living rooms and home offices around the world could experience the show as avatars watching events unfold in a shared holographic world.
It was the company's first opportunity to showcase some of the experiences made possible by Microsoft Mesh, a new mixed-reality platform powered by Azure that allows people in different physical locations to join collaborative and shared holographic experiences on many kinds of devices.
"This has been the dream for mixed reality, the idea from the very beginning," said Microsoft Technical Fellow Alex Kipman. "You can actually feel like you're in the same place with someone sharing content or you can teleport from different mixed reality devices and be present with people even when you're not physically together."
Kipman appeared on the Ignite virtual stage as a fully realized holoportation of himself, narrating the show's opening experience in real time as rays of light that simulated his physical body.
James Cameron, the filmmaker and ocean explorer, and John Hanke, CEO and founder of leading augmented reality company Niantic, Inc., also joined Kipman remotely to spotlight how Microsoft Mesh is helping them create shared experiences across the virtual and physical worlds.
Laliberté chatted with Kipman about a new collaboration to help Lune Rouge, another company Laliberté founded, realize a project called Hanai World. It's a social mixed reality platform that he's thought about for years — which would connect live and digital entertainment experiences into single events — but only now have technologies like Microsoft Mesh caught up with that vision.
Source: Jennifer Langston