SaaS Opportunity – IT platform and methodology for teaching kids programming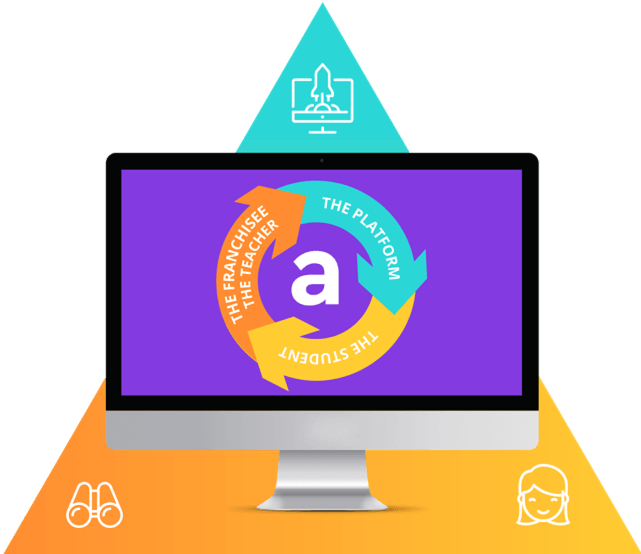 SaaS Opportunity – IT platform for offline education with full LMS and CRM functionality​
Algorithmics has created our own IT platform and are constantly improving it to make a product convenient for all the educational process stakeholders: our programming team releases 3 to 5 updates every week.
To date, our IT platform allows:
- building personal educational tracks where the difficulty level adapts to each student
- analyzing student performance
- supervising tutor's activity and class' progress
- students to study both at school and at home and to chat with a tutor
This is a unique IT platform that helps to optimize the learning process for students, teachers, and administrators.​
Student
24-hour access to tasks, as well as the ability to create their own cartoons and computer games
Teacher
Access to complete statistics on the progress of the entire class and all the methodical materials.
Administrator
Customer and learning management system that helps you monitor your customers, payments, student learning progress and teachers.
Algorithmics' courses
We have developed 5 courses that help children to make their first steps in STEM:
⠀
⇀ The coding knight: for kids from 5 to 7 y.o.
⇀ Digital literacy: for kids from 7 to 12 y.o.
⇀ Mars academy: for kids from 8 to 12 y.o.
⇀ Python: for teens from 11 to 13 y.o.
⇀ Python Pro: for teens from 14 to 17 y.o.
⠀
During our courses, students create video games, cartoons, and IT projects. Not only they gain technical knowledge, but they also develop soft skills – creative and critical thinking, teamwork, decision making, and more.
Algorithmics offers 2 models of cooperation:
Dealer
Buys accounts from resells them to schools at their own price.
Advantages: High (unlimited) profit. Discount from base price 20%.

Agent
Arranges a contract between Algorithmics and a School and earns 20% commission from base price + 50% from margin over the base price
Advantages: No financial resources required