Hiteshi Infotech Pvt. Ltd.
Hall: Hall 1 Stand: H1-G30
Image Recognition
Blockchain
Enterprise Software
Wallets
Cloud Services
Education Tech
Finance Technology (Fintech)
Internet Social Media (Linkedin, Facebook, Whatsapp, Twitter)
Healthcare Technology
M2M technology, Sensors
Education, eGoverment, Healthcare Services/ Software
Business Intelligence Solutions
Business Process Management
CRM (Customer Relationship Management)
Data Analytics and Automation
E-Commerce Solutions
ERP (Enterprise Resource Planning)
Finance & Accounting
Marketing
Mobile Applications
Mobility Enterprise Solutions
Supply Chain & Logistics, Warehouse
VOIP Solutions
Mobile Applications
Mobile Applications, Mobile Payment, Mobile Ticketing
Navigation devices
Tourism and Hospitality Tech
Artificial intelligence
Robotic Process Automation
Speech Recognition
AI Applications
Business Intelligence
Chatbots / Virtual Assistant
Machine Learning Platforms
Natural Language Processing (NLP)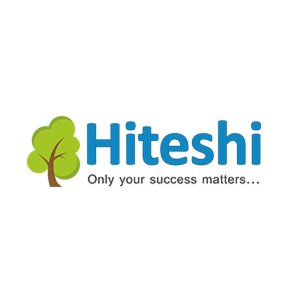 Hiteshi is a global IT service provider having 13+years of market presence with a business office in Australia. A clientele from 21 countries, we have accomplished several advanced concepts of AI, ML, Blockchain, Cloud, IoT, H/W Integration and more.
Address
8th Floor, Crystal IT Park
RHS Building Khandwa Road 452001
Indore
India
452001
India