03 May 2020
Safety wearables the next key tool for fighting COVID-19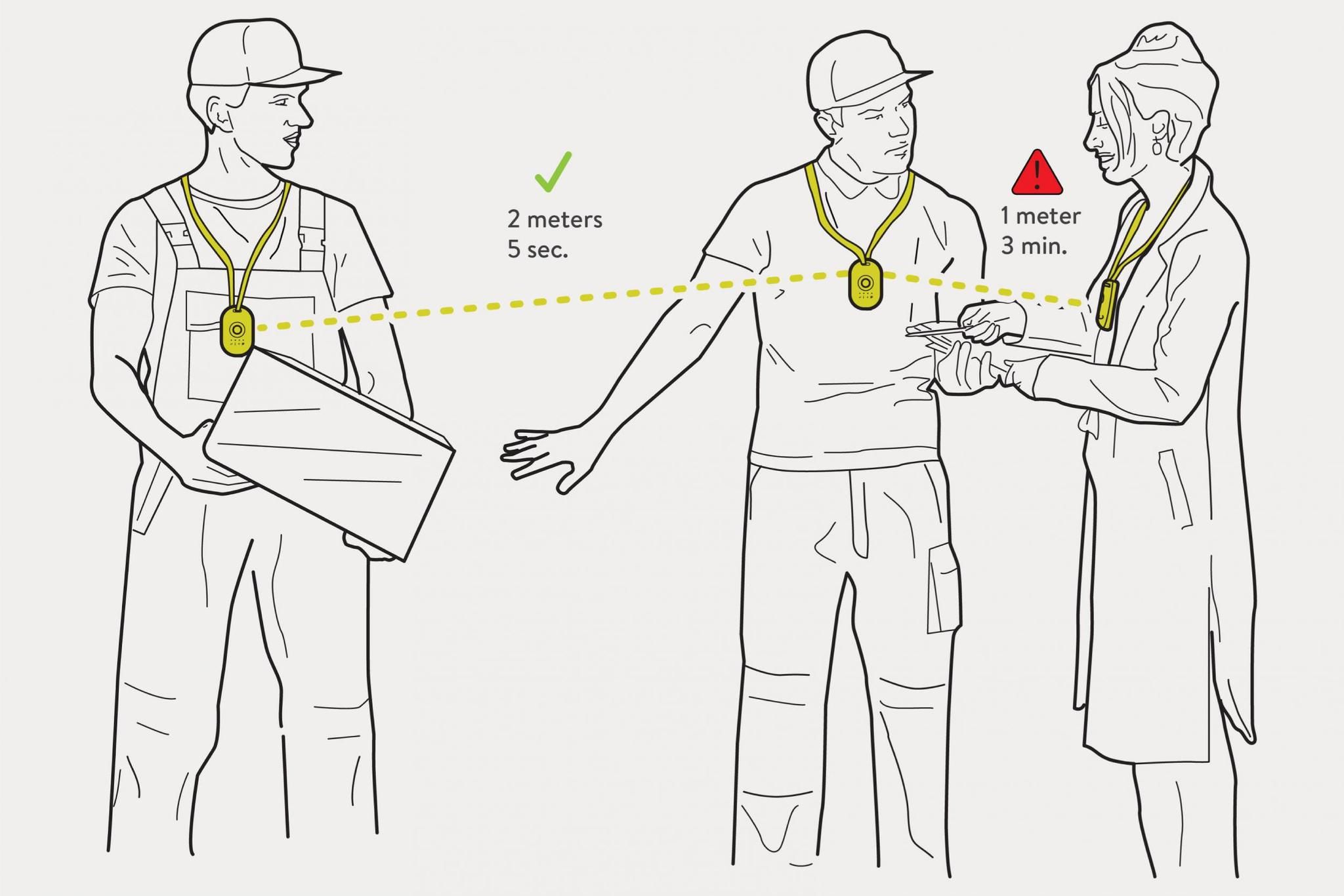 As the UK enters its sixth week of lockdown, people are itching to know when the country will open up again and we can get back to living our normal lives. Even if we are eventually allowed to leave our homes for more than one hour a day, social distancing rules are still likely to be in place for a while at least.
It can be tricky to juggle the guidelines: sure you can safely queue at a distance outside a supermarket, but once you're inside you can come pretty close to a dawdler, and there's always the threat of someone not covering their mouth when they sneeze or cough. Yet, wearables could be one way to use tech to stay safe following the lift of a lockdown.
Estimote is a US based hardware company, which makes safety and productivity devices for workplaces. It recently announced a safety wearable, a little yellow device, that can scan for other wearables around it using bluetooth and monitor how close they are as a tool for contact tracing. The idea is that key workers, such as warehouse staff or hospital workers could wear the device and if someone they have interacted with gets the virus, they will be alerted straight away.
The safety wearable could even keep a record of how many minutes someone was exposed as a way to work out the risk of contraction of the virus.
"It's not a perfect solution but it's one hundred percent better than no solution," said Estimote CEO and co-founder Jakub Krzych in a statement. "Even with the best will in the world, life consists of human interactions in communal work environments and social distancing can be difficult to maintain at all times. And so there is a risk that essential workers who are already at elevated risk of contracting Covid-19 because they are not on lockdown at home, could spread the virus to co-workers and potentially bring down an entire operation."
Krych also stressed that the device was "designed with privacy in mind", and anonymises data as much as possible. "While it may tell an employer how many minutes an employee was close to another, it won't tell them where and when, for example."
The company has already started manufacturing the wearables and is shipping to customers.
Canadian-based Proxxi is another tech company experimenting with its own Covid wearable. Halo is a wearable band for industrial workforces which helps to maintain social distancing: it buzzes to notify the wearer that another band is within two metres. The band anonymously tracks interactions with other bands, which could be useful for contact distancing if necessary.
"The need to maintain social distancing is critical to reducing transmission of Covid-19," said CEO Campbell MacDonald.
Could we see similar tech rolled out for the consumer world? Google and Apple are currently working on contact-tracing apps which rely on Bluetooth but have yet to release a wearable version that could utilise an Apple Watch or a Fitbit say. Swati Verma, thematic analyst at GlobalData, thinks the consumer tech companies are missing a trick by not realising something similar.
"Wearables have failed to take off in an industrial setting but an intensified focus on worker safety creates new opportunities, particularly in efforts to accelerate employees' return to work," said Varma. "If Apple and Fitbit do not release this functionality soon, employers will start the mass roll-out of competitors' technology. After this it may be too late to enter the market."
Fitbit, however, is attempting to protect its wearers from Covid-19 in its own way. The Fitbit app has a new tab featuring coronavirus-related information and resources, such as clock faces to remind you to clean your hands, and tips on how to stay healthy at home.
Even just wearing a Fitbit can help the effort to stop the disease: the company is collaborating with the Scripps Research Translational Institute and Stanford medicine in the US to examine how Fitbit data can help detect, track and contain infectious diseases like Covid-19.
Speaking about the research, Dr Eric Topol, director and founder of Scripps Research, said: "We know that data collected from consumer wearables can significantly improve the prediction of influenza-like illness. We see an enormous opportunity to enhance disease tracking for improved population health during the COVID-19 pandemic, and are pleased to join this new consortium to bring value to the research community."
At the moment, the UK government is banking on using a contact-tracing app which relies on a smartphone's bluetooth tech to keep an anonymous record of other smartphones they come into contact with. The idea is that someone would have the option to send data to the app if they begin to show symptoms of Covid-19 or test positive. Apple and Google have also teamed up on a similar app.
In the fight against Covid-19, every little helps.
Source: Standard