14 Apr 2020
Food delivery robots help beat the lockdown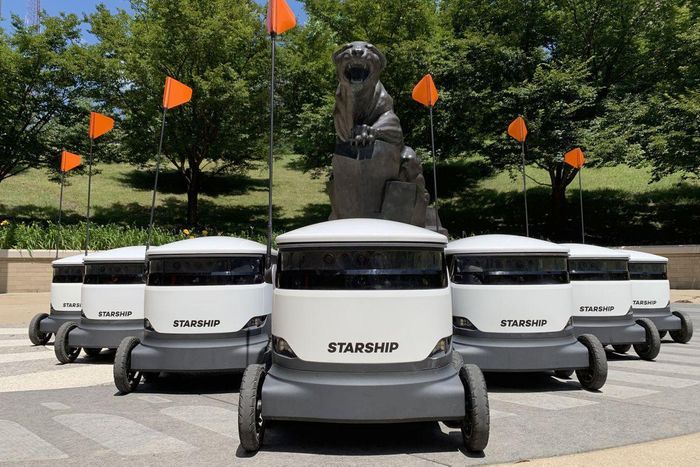 Milton Keynes is a town in England of around 200,000 residents about 50 miles north-west of London and it is at the forefront of a robot delivery revolution in the UK.
The town is home to one of the UK operations of Starship Technologies a company that hopes to revolutionize the local delivery of food, groceries and small packages.
Ideal for the current times, Starship use autonomous robots for the home delivery of take-away items like pizzas and small supermarket orders. This means that the residents of Milton Keynes do not have to leave their homes to order food and delivery personnel do risk their health in delivering it.
The robot can carry a payload of up to 10Kg. It travels at about 4 miles per hour and is festooned with cameras and other sensors. It can find its way completely autonomously using its sensors and GPS but only works in pre-mapped areas.
The Milton Keynes operation is ideally placed to take advantage of the social distancing measure that were recently put in place by the British government. People living in the area can down load an app on their phone and order take-away food, or shopping from the supermarket, and have it delivered to their door by the small 6-wheeled automatons.
Starship started up in 2014 and they design and manufacture their own robots which have, so far, traveled over 300,000 miles. They have encountered millions of people, according to Starship, but remarkably no one has attempted to steal one!
The service is also operating in two university campuses in the United States where they have been extremely well received.
The robots are designed to deal with the 'last mile' part of a delivery (in fact their range is about 3 miles) which, Starship say — quoting McKinsey — can represent up to 50% of a product's delivery costs.
But in these days of social distancing and avoiding unnecessary face-to-face contact, these little robots may not just provide a convenient and cost-saving service but a health related one as well.
Source: Medium